Profile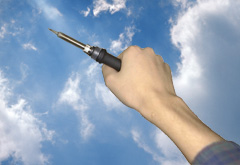 Handle Name: Susutawari
Name: Noriyuki Aibe
Job: Student
Hobby: Making some Electric Circuits, Watching Animetions, Playing Ski, and etc..
I'm graduate student of University of Tsukuba in Japan. I study and research in the electric circuits of pattern recognition, EHW, and etc.

My Computers
NEC PC-88VA with SoundBoard2
NEC PC-9801DA with Cx486DLC
Intel P54C-90MHz AT Compatible
Intel P-Pro-200MHz AT Compatible
AMD K6-200MHz AT Compatible
Intel P3-500MHz AT Compatible
Panasonic CF-S21(Let's note)
SunMicroSparc S-4/CL
R4600PC-100MHz/XZ Indy
etc.
My Development Tools